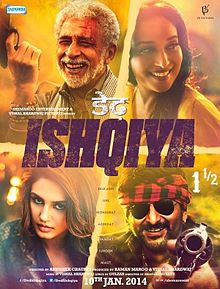 In a industry churning out storyless movies, when a movie comes along with even a little bit of substance, you tend to gravitate towards it. Vishal Bharadwaj, kind of has a name for doing things differently and Abhishek Chaubey along with him carries on the tradition of delivering movies with difference. The movie kind of picks up where the fisrt left off in terms of sensibility and humour, add to that the new storyline its one up.
Khalu played by Nasseruddin Shah and Babban played by Ashad Warsi make an unusal pair , and they are pair of thieves, but the movie belongs to Madhuri Dixit who plays Begum Para who is holding a swayamwar of poets to choose an husband and Huma Quereshi.
I'll spare the details of the movie so that you watch it. Both the actresses shine bright in the movie and this the best kind of a comeback an actor could hope for in my opinion.
The movie as i mentioned is like a breath of fresh air, and while most of the dialogues are in Urdu, which not much is used these days, you can still manage to undertand most of it if not all. There are some NSFF (Not Safe for Family) language and visuals.
Setu's Camerawork is quite good, and the music is very Vishal Bharadwaj who is also the producer of this movie.
Hindi movies can be good to watch, and this is the first good hindi movie of 2014.