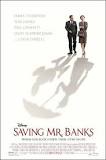 Saving Mr.Banks is about the real life story of making of the iconic Mary Poppins. Emma Thompson plays the role of Mrs.P L Travers the author of the book, and is flown to LA by Walt Disney played by Tom Hanks who is trying to keep the promise he made to his daughters to make the book into a movie, and the movie is about the process involved. Without giving out any spoilers Both the lead characters play wonderfully well , Emma Thompson is very good in all the flintness and dissatisfaction about every thing around her, and Tom Hanks in the mid western idealized version Walt Disney. A Parallel story takes through the author's childhood and all the influences on her writing the book, Another failure here is it doesn't answer the question of how the author became so finicky, John Lee Hancock has done a wonderful job of giving depth to the characters, but what i felt missing was all the things that made the Mary Poppins movie "Iconic", It's more about the getting rights to the movie. I will stop being to very citical about the movie, The movie has some high points but I went in with an expectation of getting to see little bit more. Wait till the end when the play the tapes of original author trying to expalin stuff and you will be surprised on how Emma Thompson has been able to capture her essence.
Dissapointments to the Soul is what Thunderstroms are to air
Wonderfull performances yet somehow not completely satisfied.